naxat – it's all down-hill from here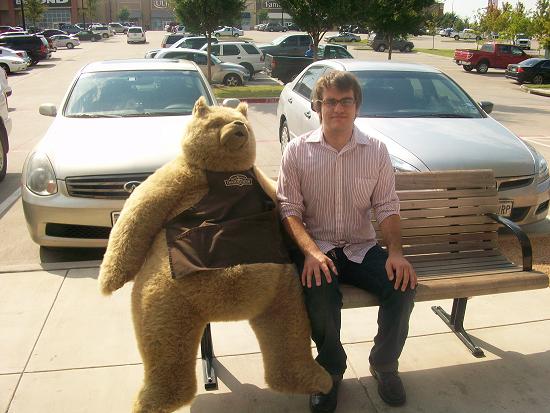 In 2007 Alex Atchley (a composer from Fort Worth TX; was also voted #35th best Ian-Curtis-rip-off vocalist in the Southwest) toyed with the idea of abandoning the band name his mom gave him in 1985 ("Alex Atchley", later renamed "The Alex Atchley Experience" in 2004). He settled on Naxat, the namesake of a now defunct Japanese software company. A few shows were played, and nothing was released until August of 2009, when he dropped The Tree Tunnel EP for download and as a cassette (with obligatory bonus track).  A month later, he announced he was working on an album entitled The Pecking Order, which later became Urges. It didn't get finished in time for his 2010 winter tour, which saw him play his biggest crowd at Magfest 8, playing in front of his target audience, a room of 300 drunk nerds. Cameron Rosewicz joined him on keyboards, guitar, and bass. They played for meager sums of cash and beer, and rocked literally dozens of people across the North East and Midwest of the United States.
In 2010, Atchley continued to write songs for the "upcoming album," and play shows across the DFW Metropolitan Area. Finally, with the helpful prodding of long-time friend and collaborator Michael Dufault (guitar player, vocalist for Fort Worth rock group Automorrow), they began recording an album in the summer at Dufault's home. The album finished fairly lazily, and was posted in haste to http://naxat.bandcamp.com as a free/donation download, and as Atchley was uploading tracks, he settled on the name Chambers of the Naxat. Obviously, his most obvious influences are present as they everywhere: synth-pop, video game music, and anything that doesn't use too many blues scales.
Now Atchley spends his time in quiet contemplation, wondering about the days that has passed him by, and where exactly everything went wrong. Whenever he can conquer his sometimes-crippling self-doubt and depression, he will likely write more songs as Naxat.
You want some influences to latch on to, lazy music journalists? Well, here are a few names to latch on to: Chromelodeon, The Fucking Champs, Minibosses, Kate Bush, Queens of the Stone Age, Wizard Combat
Word Around Town is…
QuickDFW – a well written profile on naxat gives hope for the future of music-journallism
Pegasus News – Naxat loves the music of Dexter's Lab
Fort Worth Weekly- slow news week means a full feature article about Naxat
Original Sound Version – mention about naxat performance at Magfest 8
Subservient Experiment – blog about Flash Bulb and A Voices demos
Fort Worth Weekly – mention about TTEP tape and winter tour
Fort Worth Weekly – mention about Tree Tunnel E.P.
Game Music 4 All -  positive Tree Tunnel E.P. review